PENNZOIL RACING OIL
IS NOW AVAILABLE IN AUSTRALIA
I have been racing historic touring cars for many years. My XU-1 Torana has always performed well and been one of the most reliable cars competing. I was recommended Pennzoil Racing Oil when I commenced racing. All my engine builders have commented how well the engines looked for lack of wear at each rebuild.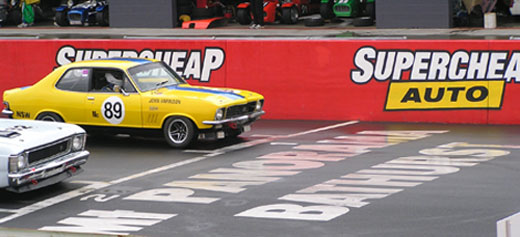 When Shell took over Pennzoil and stopped importing the US produced Pennzoil Racing Oil, it left a void which could not be filled with locally available racing oil. Most so called high performance oils are actually street oils and not suitable for hard competition use.
To fill this void I sourced Pennzoil Racing Oil in the USA and imported a small quantity for sale to other motor sport competitors. I have had support not only from historic touring cars but also speedway competitors and bikes.
With increased support I will be able to reduce the import costs which make up a large part of the cost. I am also looking at bringing a SAE 50 grade Racing Oil which a number of competitors would prefer.
John Harrison